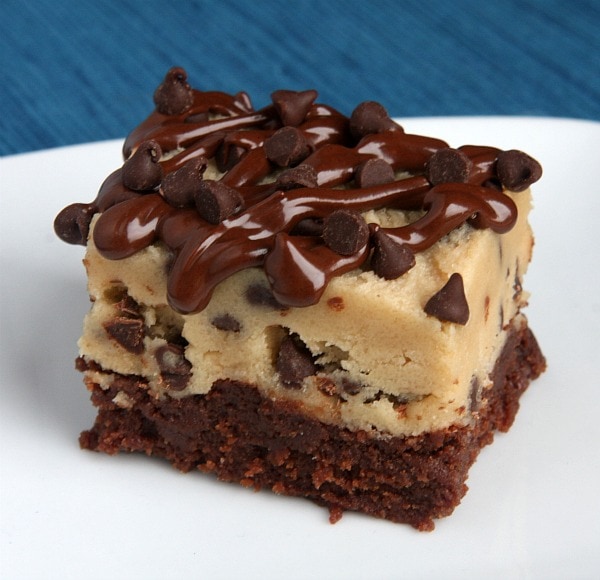 Ingredients:
For Brownies:
4 ounces unsweetend bakers chocolate
1 cup of butter, room temperature
2 cups light brown sugar
4 eggs
2 tsp vanilla extract
1 cup of flour
For cookie dough:
3/4 cup butter
3/4 cup light brown sugar
3/4 cup white sugar
3 tbsp milk
1 1/2 tsp vanilla extract
1 1/2 cups flour
1 1/2 cup mini chocolate chips
*For the chocolate drizzle, you will want some extra chocolate chips and shortening
Make the brownies first:
1. Preheat oven to 325 degrees and spray a 9x13 pan.
2. Cut up the bakers chocolate. Put in a microwave safe bowl and cook for 30 seconds at a time, stiring each time. Once smooth put aside to cool.
2. In a different bowl using an electric mixer, mix butter and brown sugar. Beat in the eggs and the vanilla extract. Once combined, mix in the chocolate then the flour.
3. Spread mixture in greased pan and cook 25 to 35 minutes. Let the brownies cool completely.
Now to make the cookie dough:
1. In a bowl, mix butter, brown sugar, and white sugar. Then mix in the milk and the vanilla. Once combined add the flour and then mix in the chocolate chips with a spoon.
Making the final product:
1. Once the brownies have cooled completely top with the cookie dough and put in the fridge till dough is firm.
2. For me, I cut mine into serving sizes and used cupcake holders to place them in. I also melted some of the chocolate chips with 1 tbsp shortening and put it in a ziploc bag. I cut the bag corner and drizzled the chocolate over the top of individual servings.
Since there are no eggs in the cookie dough it is fine to eat raw. These things are delicious and addictive!
Enjoy!!